Işıl Doğa Yakut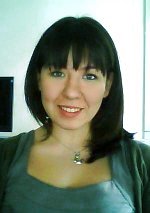 MSc Candidate
Bilkent University, Dept. of Comp Engineering
Office : Engineering Building, EA-228
E-Mail : yakut at cs.bilkent.edu.tr
Hi, I am a second year M.Sc. student under the supervision of
Tolga Capin
at Bilkent University Department of Computer Engineering, Turkey.
I am interested in Computer Graphics and Visualization fields with an emphasis on developing methods for exploting human visual system. Currently I am a part of a research group studing perceptually enhanced 3D graphics. Our project
ALGI
(turkish for "perception") is funded by TUBITAK which is Turkey's National Science Foundation.
Previously, I was a part of 3dPhone project funded by Europian Union as a research assistant. There, I was responsible of the rendering effects of the 3DUI Toolkit and involved in the development of OpenREng component library.
Also I am a teaching assistant during semesters. I have guided students in lab sessions of introductory courses. (CS101 for four semesters and CS111 for 1 semester)
Below, a few of the projects and works that I was involved in are listed. You can reach my resume here (
cv.pdf
) (
cv.html
)
| | |
| --- | --- |
| | OpenREng is a small, simple open-source rendering engine that uses OpenGL ES 2.0 - OpenGL 3.0> (non-deprecated) APIs as the underlying graphics APIs, providing support for both mobile and desktop platforms. It aims to provide easy manipulation and definition of 3D scenes, along with additional integrated rendering techniques. The engine is written in C++ and is under active development. |
Collision Detection of Multiple Moving Objects on GPU
| | |
| --- | --- |
| | In my project I created an physical-based simulation of an environment. The environment consists of rigid convex polyhedrons which can bump into each other and react accordingly. Specifically I simulated the movement and interaction of multiple convex polyhedra in an virtual space according to their translational and rotational velocities. The simulation runs on a PC taking advantage of the GPU's parallel execution. During collision detection I took advantage of GPUs multiprocessor power. Project Report (.pdf) |