Bilkent ACM SIGART (Special Interest Group on Artificial Intelligence)
The Turing Test Revisited...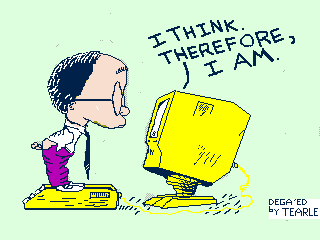 This week we hope to continue our discussion of the Turing Test began two weeks ago. There was considerable interest in the first gathering, not to mention heated debate. Hopefully, last weeks introductory video will have answered some of the questions, but undoubtedly raised others.
Tuesday, 13th Oct. 1998
at 17:40 in EA502 (Eng. Building)
Everyone Welcome

---
Resources
Read Turing's original paper online.
Check out Pinar's excellent Turing Test Homepage.
Find out about the man himself at the Alan Turing Homepage
---
---